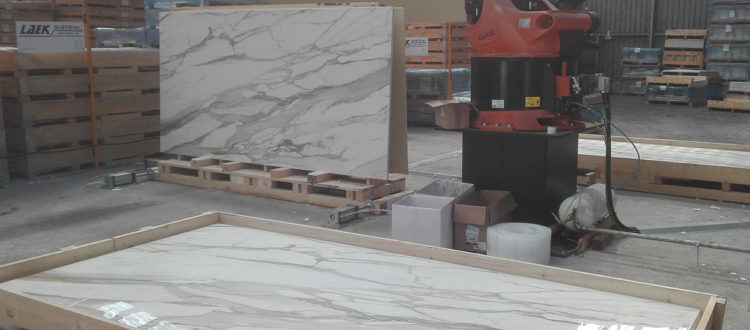 The future of Picking is now
The introduction of the largest size slabs has demanded a switch of approach in system automating. 1600×3800 slabs can be 30 mm thick and they can weigh up to 400 kg so logistics need to be adapted to ensure safety in the manufacturing plant and at building sites. New technologies and robotic systems are the perfect solutions for these issues, and we have been designing and manufacturing electronic systems for the ceramic industry over 35 years.
This is why Tile in the World magazine devoted an article to our work, detailing the relevance of robotic technology applied to the ceramic industry.
In this sector an absolute ruler is Laek Sistemi, a Fiorano's company which for over 35 years designs and realizes electronic systems, machines and advanced technology for ceramic industry and more. Michele Iacaruso and his son Luca are the backbone of a company streamlined and flexible which makes use of experienced collaborators and which is able to reach spectacular successes in the field of innovations and of the needs of the costumers. In particular for slabs and large formats have been realized points of choose while exiting the furnace, exiting the lapping machine, exiting the rectification lines, areas of palletisation, areas of spillage from boxes to counters and viceversa, areas of palletisation exiting the furnace for outdoor processes and so on. Robotized areas "Picking", thanks to the system created and tested for over 2 years from Laek with installations for italians' costumers, can handle both metal containers and wooden boxes both vertical pallets, for the storage and the shipment of large ceramic slabs; everything in maximum safety with the instructions arriving to the robotized area directly from the sales offices. Today is even possibile, thanks to the new Laek's applications, charge on the same support also products with different shades and ranges, preparing a complete order, ready for the costumer. A Laek Sistemi, the Picking of the future has already arrived new frontier which revolutionizes the common shipment by hands (with the help of big pliers and plungers), where there are at least two people busy, in use in the mayor part of the industries of the ceramic district. This system combined with Laek technologies of tying, allows the perfect security of operations of discharge and storage inside the warehouses or the work site of the costumers, everything in an extreme and certificate security.
Read the full article.